The Future of Workspaces | Feature in Ulster Business Top 100
We are delighted to be featured in the Ulster Business Top 100 2022 magazine. Our feature is about the future of workspaces, employee expectations, and how businesses need to prepare.
The Future of Workspaces
The working world has changed, 'hybrid' working seems to be the norm and employees expect more than ever before. The workplace environment is important for employee mood, health and wellbeing, work ethic, collaboration and concentration. Spaces for individual concentrated work alongside spaces for collaboration and socialising are both essential to employee satisfaction and overall productivity.
"Providing spaces where people have control over their environment, access to natural daylight, spaces to relax and take breaks will result in enhanced performance, happiness and satisfaction. When people perform at their best individually, they feed into the collective more effectively" – Hannah Nardini, 2022.
What will the workplace look like in 2030?
A huge rise in self-employment and freelance. Office-less companies and more working from home. Collaborative based teams rather than management based. Employee empowerment will become a priority. Smart 'home tech' will come into the office. Virtual reality meeting spaces for an 'in-office' experience. Complete flexibility to suit individual employee needs.
However, now in 2022 we can already see big changes within the workplace environment: UK is currently trialling a 4-day work week. Employee turnover has risen as people search for most flexible and benefit centred employers. Managerial tasks are becoming more automated to allow management to spend more face-to-face time with employees. Employees and job searchers are expecting higher salaries and more benefits. Employers are finding it difficult to encourage people back to the office. Airbnb's work-from-anywhere policy.
"We are seeing signs of a shift within the Generation Z demographic since the pandemic. For some, being in the office and around experienced people to learn from is going to be vitally important. We are likely to see them want to be in the office for their professional development but the office needs to support this and not drive isolated working" – Hannah Nardini, 2022.
Gen Z entering the workforce
Gen Z are here and ready to join the workforce. Are you ready to meet their expectations? This generation expects a lot from the moment they begin their careers. This generation is the most likely generation to job-hop to find the company which suits them best. Flexible working to work around their liftstyle. Workplaces to allow them to have a personal brand showcasing their talents. A hybrid work environment with the option to work from the office to learn off older generations and build professional relationships. Workplaces which support personal growth and will put them through qualifications. A salary which meets their needs with rising costs and is accurate to their job responsibilities. Quick promotion opportunities.
Businesses need to adapt
The past two years have shown us that life can be unpredictable and change at a moments notice. That we need to adapt and change with the circumstances. Therefore there is no way to predict exactly what the future holds, however, from the expectations of the new generation of workers and an aging population, it is clear that businesses need to change and adapt to keep top talent. Innov8 Workspace Solutions are here to help. We can offer an office transformation to prepare you for the future. Innov8 are experts in creating innovative office spaces with industry trends and stats in mind. Get in contact to take your first step in preparing for the future.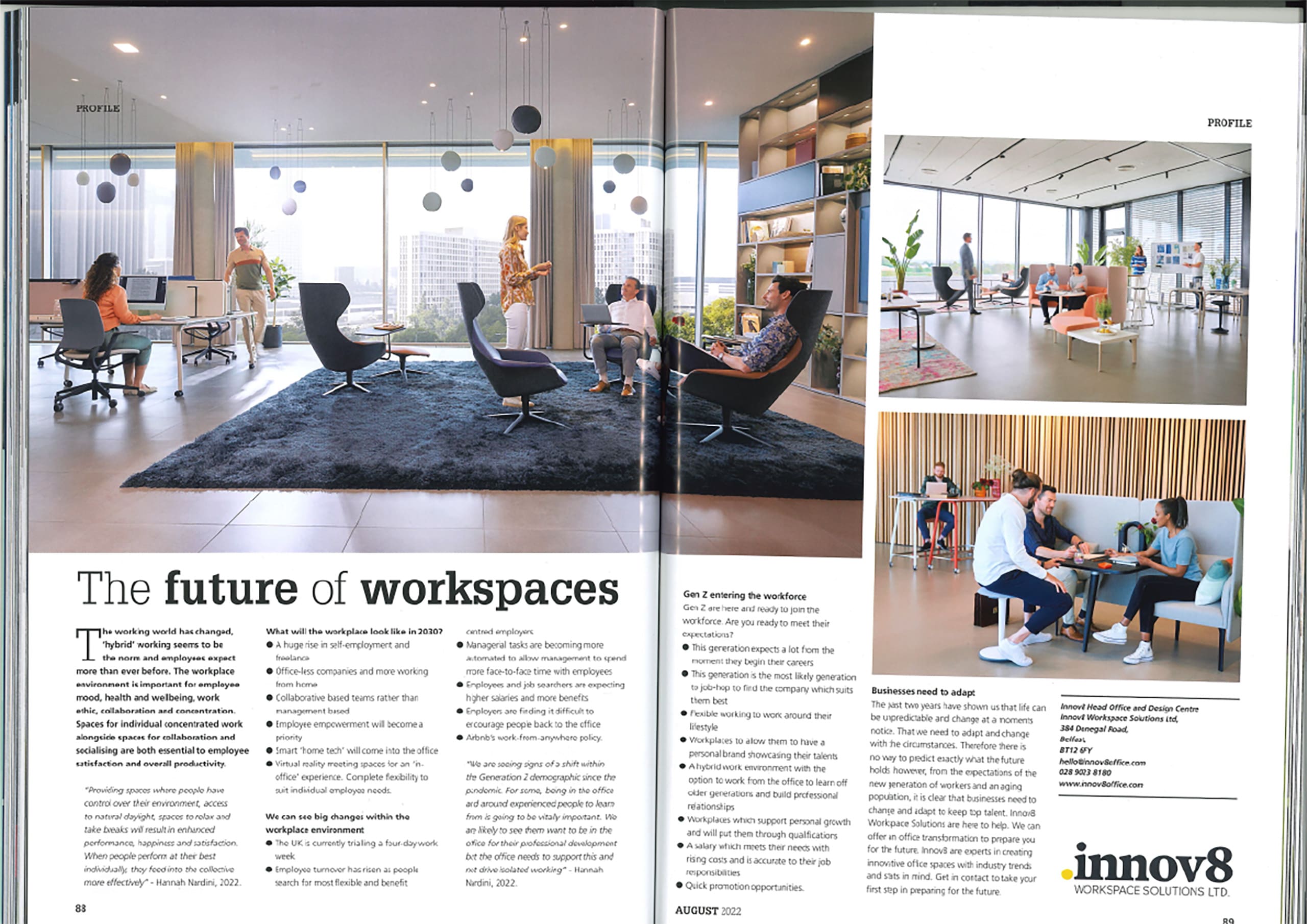 We hope you enjoyed our article on the future of workspaces featured in the Ulster Business Top 100 2022. Get in touch below to discuss how we can help you prepare for the future.